Getting you to the next level of quality with Zephyr family
Thursday, December 09, 2021
As 2021 winds down, we wanted to share an overview of the new things the Zephyr team did this year to help you get to the next level of quality – and offer a sneak peek at things to come.
Zephyr Squad
Our flexible test management solution for Agile-focused teams helps you quickly start managing tests inside Jira. All test management basics are there – so you can design, execute, and report on your tests. All inside Jira.
Previously called 'Zephyr for Jira', earlier this year we renamed it to Zephyr Squad to better align it with our other Zephyr family products.
On the product development front, the team has been busy working on various BDD/ Gherkin enhancements. First of all, they introduced Gherkin tags, which can be used to identify BDD features and test scenarios. These tags are Jira enabled, so you get feedback when you search for them in Jira. We also released a way to import existing Gherkin feature files into Zephyr Squad so they can be used again.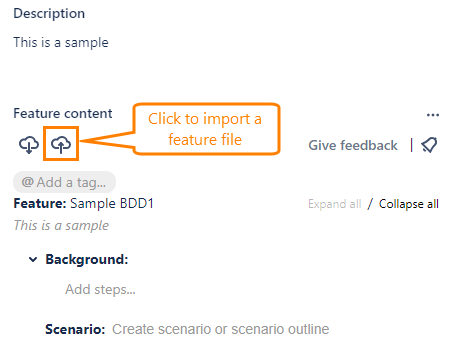 Importing a BDD feature file in Zephyr Squad
Another important milestone for Zephyr Squad this year was around test automation. It's now enabled for all users, whereas before users had to request it to their Jira admin. This means every user of Zephyr Squad can now create test automation jobs and push the results.
Supporting your journey to Cloud
As you probably heard by now, Atlassian is ending support for Server based products (including apps) by February 2024. To help customers migrate to Cloud, Atlassian released the Jira Cloud Migration Assistant (JCMA). The team at Zephyr Squad worked closely with Atlassian on an early access program to support this tool, and enable a smooth migration of Zephyr Squad app data from Server to Cloud. The JCMA program has recently entered public beta stage, which means everyone can use the tool to migrate app data to Cloud. Check out the cloud migration guide for most up-to-date information.
Another important enhancement: performance. In several areas of the app, including Cycle Summary, Execution Details and Search Test Executions. To improve overall performance of the app on Server and Data Center, the team released the ability to archive test executions. If you If you have a lot of executions, and you feel it might be slowing things down in Jira, then you should give this handy feature a try.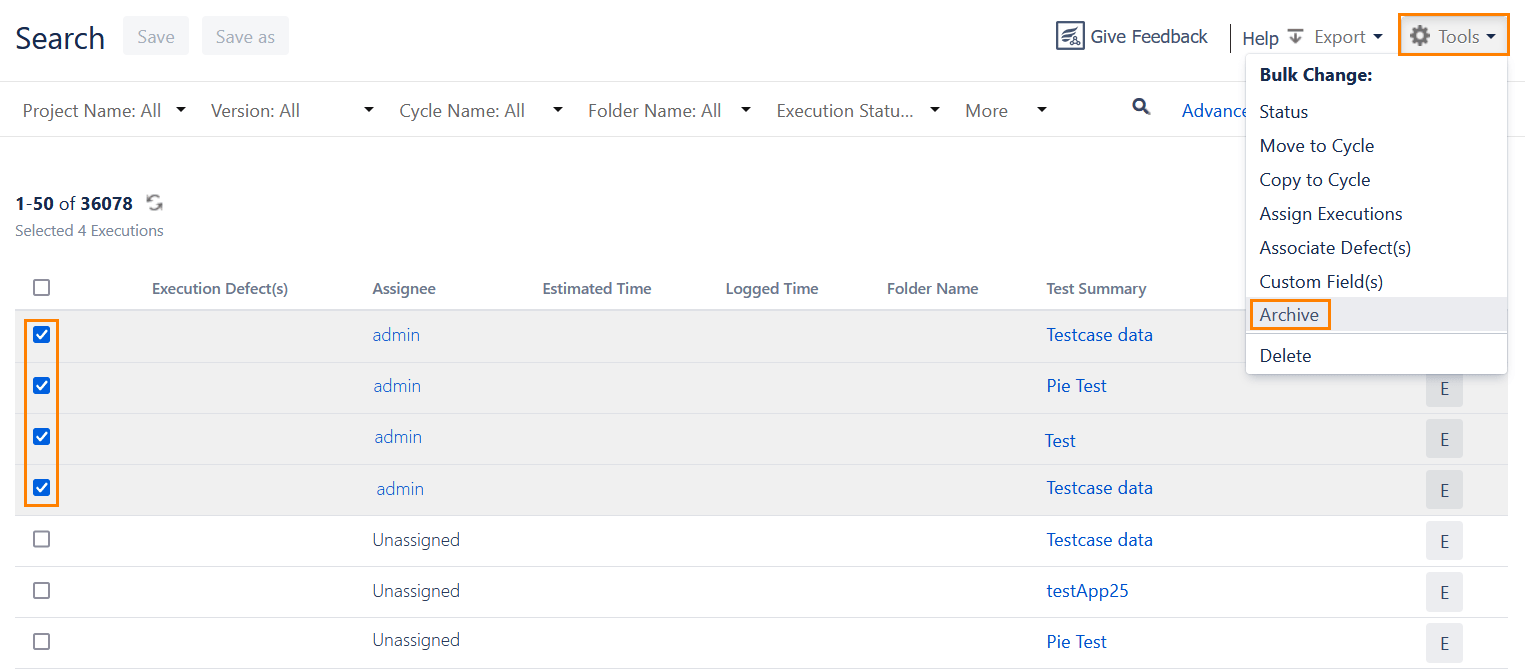 Archiving test executions in Zephyr Squad
Behind the scenes, the team also worked on upgrading the app infrastructure. With these changes, we can release new versions of Zephyr Squad on-demand and with zero downtime. It's a huge milestone, as the team formerly released only on weekends to minimize your downtime.
Looking ahead
Automation is certainly one area where we look to have more enhancements. We're working on:
Enhancing Cucumber execution results to help you quickly identify errors and their causes
Collaborating with the Cucumber team to provide world-class BDD support
Making the REST APIs public so you can manage Gherkin content with your own script
Supporting even more automation frameworks, including the Cypress framework (released soon)
Further supporting customer journey to Cloud with JCMA migration tool – by making the tool much more stable
Enhancing the Zephyr migration tool
Zephyr Scale
Our advanced test management solution for Jira. Built for performance and complex test libraries, Zephyr Scale offers more structured test management for agile/waterfall-focused teams looking to advance their testing in Jira.
This year, the team was busy improving Gherkin/ BDD and automation capabilities. We added support for even more automation frameworks, including JUnit 4 and 5, Robot, Pytest, TestNg and Nunit. We also improved results you get from automated tests. For results coming from Cucumber, for example, users now get a detailed view of the source of the error, to help them find and fix any issues much faster.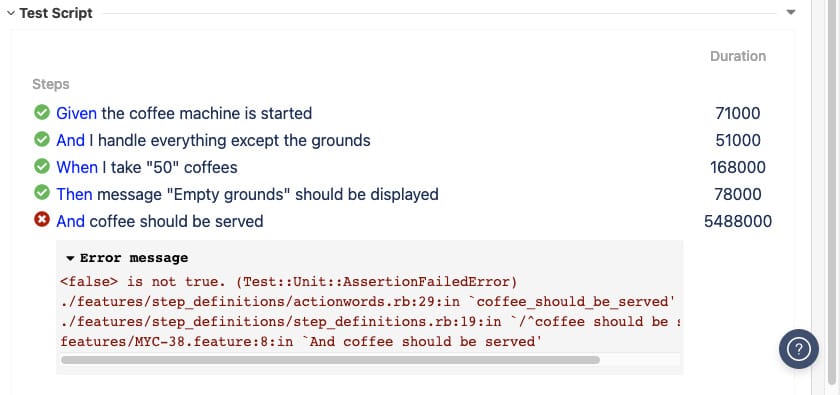 Detailed Cucumber results in Zephyr Scale
Similar to Squad, the Zephyr Scale team was busy implementing the Server to Cloud migration path with the Jira Cloud Migration Assistant (JCMA). Check out Zephyr Scale's Cloud Migration Guide for more info, including useful strategies and tips.
Zephyr Scale also received a Cloud Fortified badge, which shows that we are compliant with Atlassian's highest requirements around security, reliability, and support on Cloud. For you, this essentially means if you migrate from Server to Cloud, you can expect good performance, good service, and that your data will be safe.
Performance at scale
The team has started a long-term effort to make user experience faster and more intuitive. Back in July, we released an improved traceability panel in the Jira issue view. More recently, we released a redesigned test plan library. While the capabilities remain similar, we believe it's now more intuitive for our users.

Redesigned test plan library in Zephyr Scale
Finally, we worked on performance and stability improvements in few key areas such as the Jira issue panel, and REST API response times, so your automation builds will feel snappier.
Going forward
The Zephyr Scale team will continue:
Supporting customer journey to the Cloud with performance and bug fixes for the JCMA tool
Ensuring customers feel welcome when they migrate over to Cloud by bringing more features from Server/DC, including reports
Improving Zephyr Scale's enterprise capabilities, which includes features like data residency to help you decide where the data is located
Zephyr Enterprise
Our robust, standalone test management solution for agile and waterfall teams. It can connect and consolidate data across multiple Jira projects, and comes with the widest automation support – making Zephyr Enterprise the perfect solution for consolidating complex teams across the entire organization.
This year, the team worked hard to improve key features for enterprises. With the new Project Administrator role, you can now allow teams to manage just specific projects. We also made it easier to manage users in groups with SSO Auto-provisioning.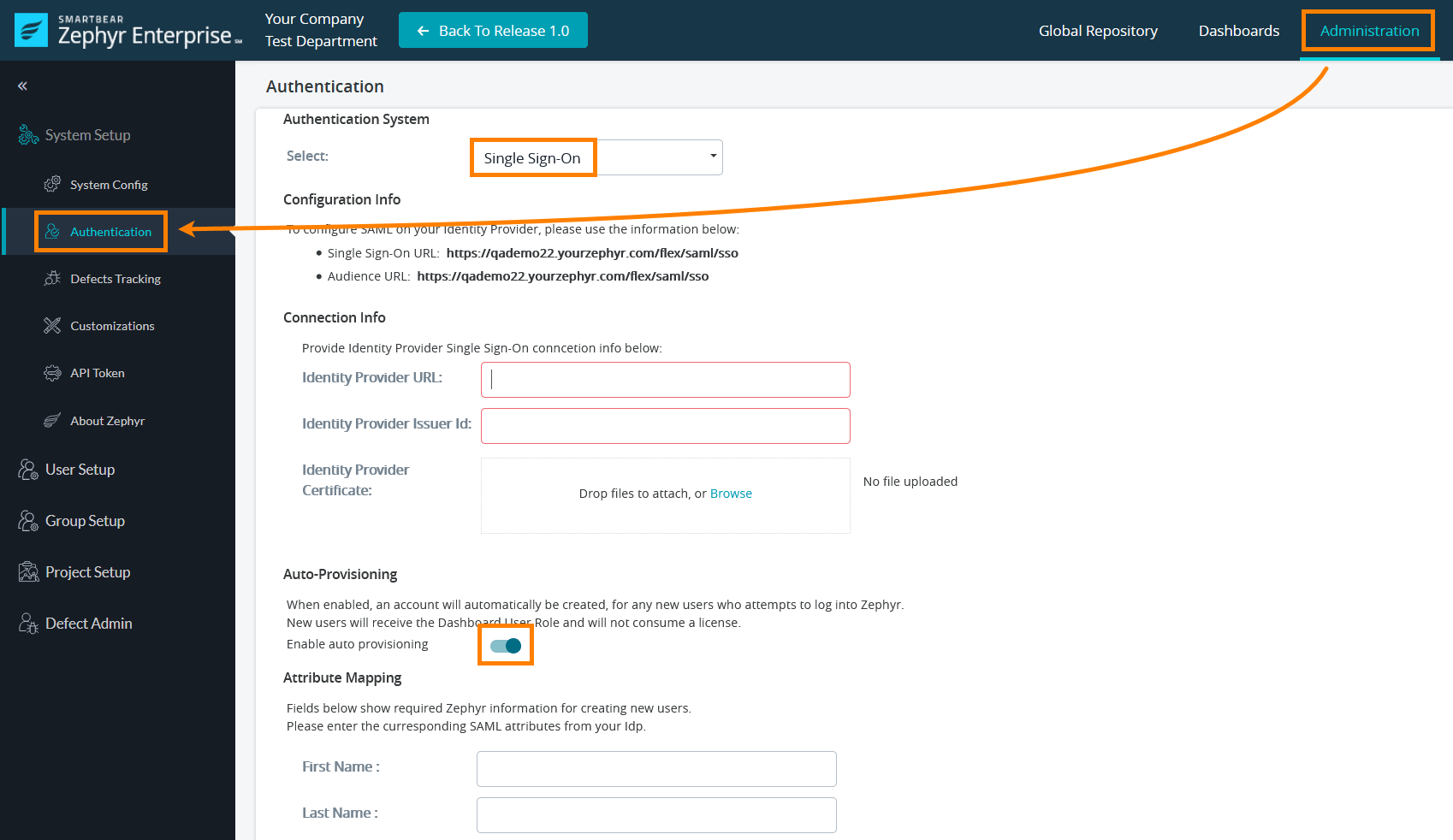 SSO Auto-provisioning in Zephyr Enterprise
The team also focused its efforts to improve integration with Jira. It's now easier to select whether specific projects should be managed inside Jira, or by the internal requirements and defects system. And, most notably, Zephyr Enterprise team released a new Jira plugin that provides real-time visibility and links to Zephyr Enterprise test cases directly in Jira.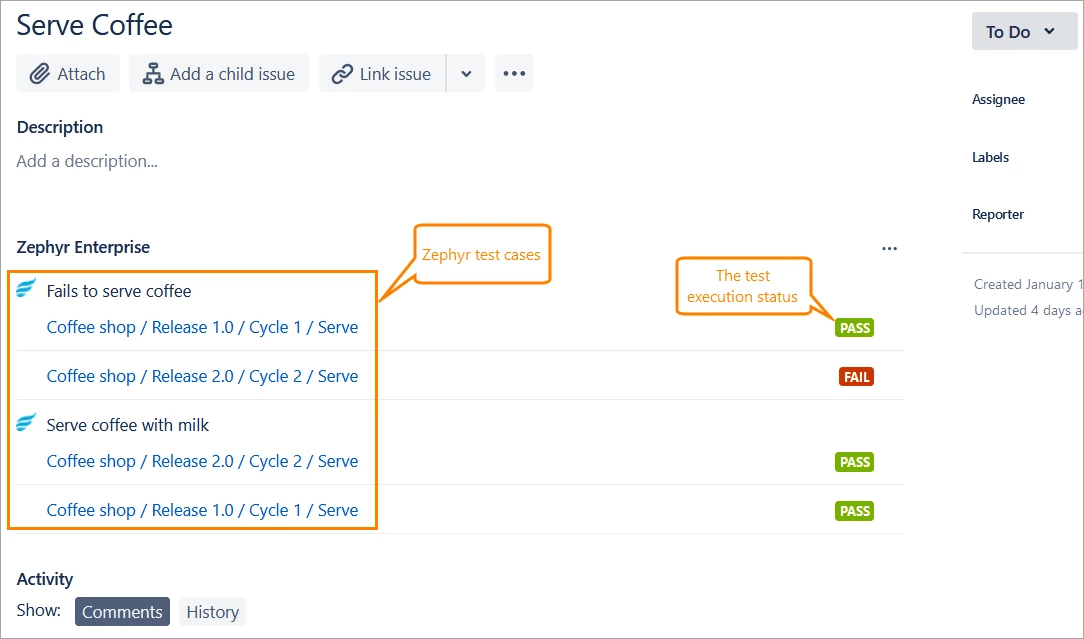 The new Jira plugin for Zephyr Enterprise
We've added the ability to define how you file new defects, allowing you to choose whether to use the native Jira defect creation screen, or the internal defect creation screen in Zephyr Enterprise. Traceability is now supported across releases, allowing users to share test cases more easily across projects and releases without having to remap the requirements.
The team spent a lot of time on performance and scalability improvements. We worked closely with the largest Enterprise customers to ensure Zephyr Enterprise performs well even under the heaviest of loads and across a wide variety of setups. This should also result in a smooth experience for those working with the tool day-to-day.
What's coming
We'll continue focusing on:
Providing deeper support for CI plugins and automation tools
Improving integration with our industry-leading tools like TestComplete and ReadyAPI
Improving BDD support – not just automation, but the entire spectrum of BDD, from feature creation to living documentation
Bringing more actionable insights into the quality of your projects by investing in augmented analytics, recommendations, alerts, and other reporting features
Helping you get to the next level
With our Zephyr tools, we want to meet teams where they are, no matter where they are in their SDLC journey. As their test management needs evolve over time, we want to ensure these teams can comfortably grow by seamlessly transitioning between the tools in Zephyr family.
This is why we will focus on frictionless Zephyr Squad to Zephyr Scale upgrade path. At first, this path will be cloud-to-cloud, helping you migrate all your Zephyr Squad data to Scale, including test executions and test cycles.
Your progress is our success
Getting you to the next level isn't just providing you with a means to move to a more suitable tool. It also means empowering you with the necessary knowledge to succeed with the Zephyr solution of your choice.
SmartBear Academy is an online learning platform for all our products, including the Zephyr family. This year, we launched all-new training courses for Zephyr Squad, Zephyr Scale and Zephyr Enterprise, with more courses coming in the future.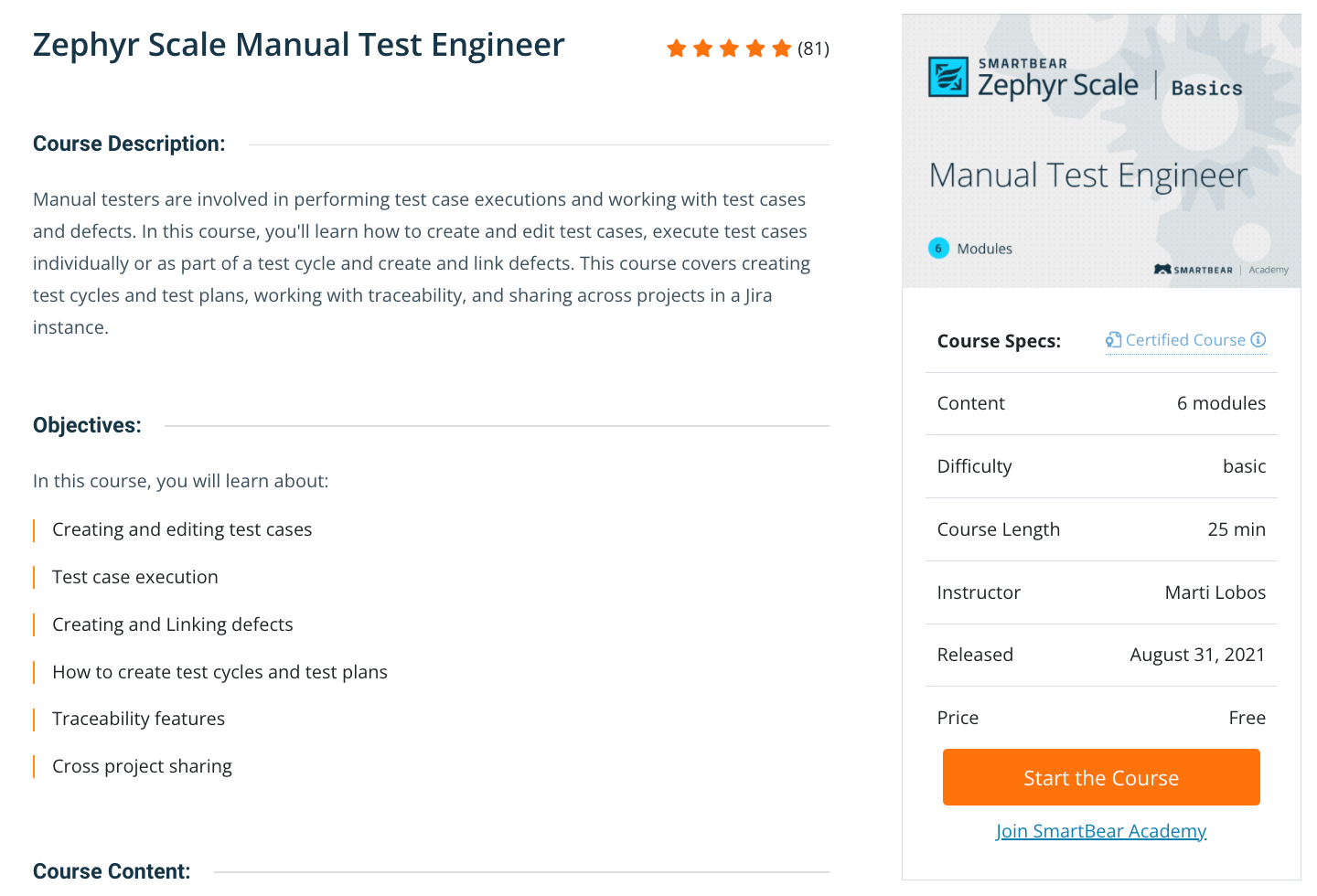 Manual Test Engineer course for Zephyr Scale
Available on-demand, each of these modules are geared towards a certain user persona (manual test engineer, QA lead, etc.) and provide a useful means to dive deeper into each of the tool's features. After finishing the module and successfully passing the exam, all alumni earn a certificate for completion. The courses are entirely free – to access them, all you need to do is to create a SmartBear Academy account.
The power of the community
Alongside SmartBear Academy, we've also been making progress with SmartBear Community. Already 100K members strong, this is a great resource to connect with like-minded peers, and grow your expertise in Zephyr products. We aim to grow this community into an ever-expanding place of knowledge, a place where Zephyr users can find answers and gain valuable insights into our products.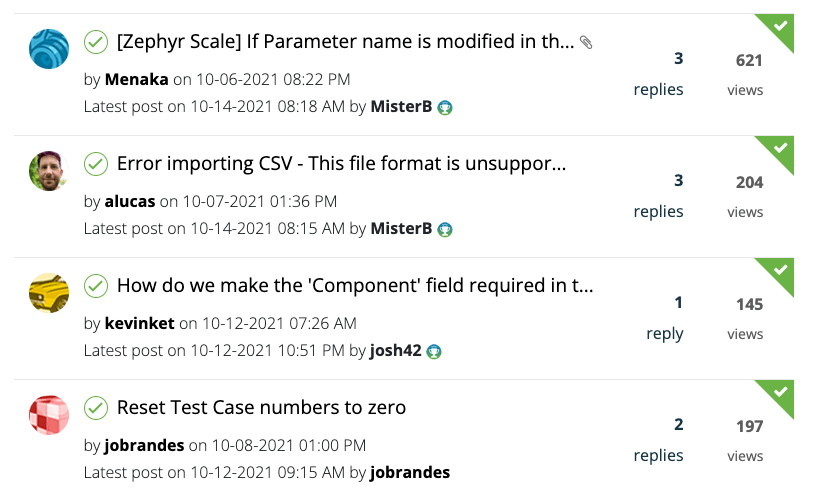 SmartBear Community is a great place to find answers
Access to the community is also free – simply create a community account and dive into the community life. There are many topics around different Zephyr features, as well as industry conversations.
So don't be shy, come and say hello in the respective forum for Zephyr Squad, Zephyr Scale, and Zephyr Enterprise. And, who knows, you might even become the next community leader.
You are part of building the future
First and foremost, our products are designed for practitioners. This is why we rely on your input to make the products even better.
Our roadmaps are public, and you can influence them through the dedicated Ideas Portals for Zephyr Squad, Zephyr Scale, and Zephyr Enterprise. Not only you can submit your feature ideas there, but you can also vote and comment on features requested by other users, making Zephyr roadmap a truly collaborative process.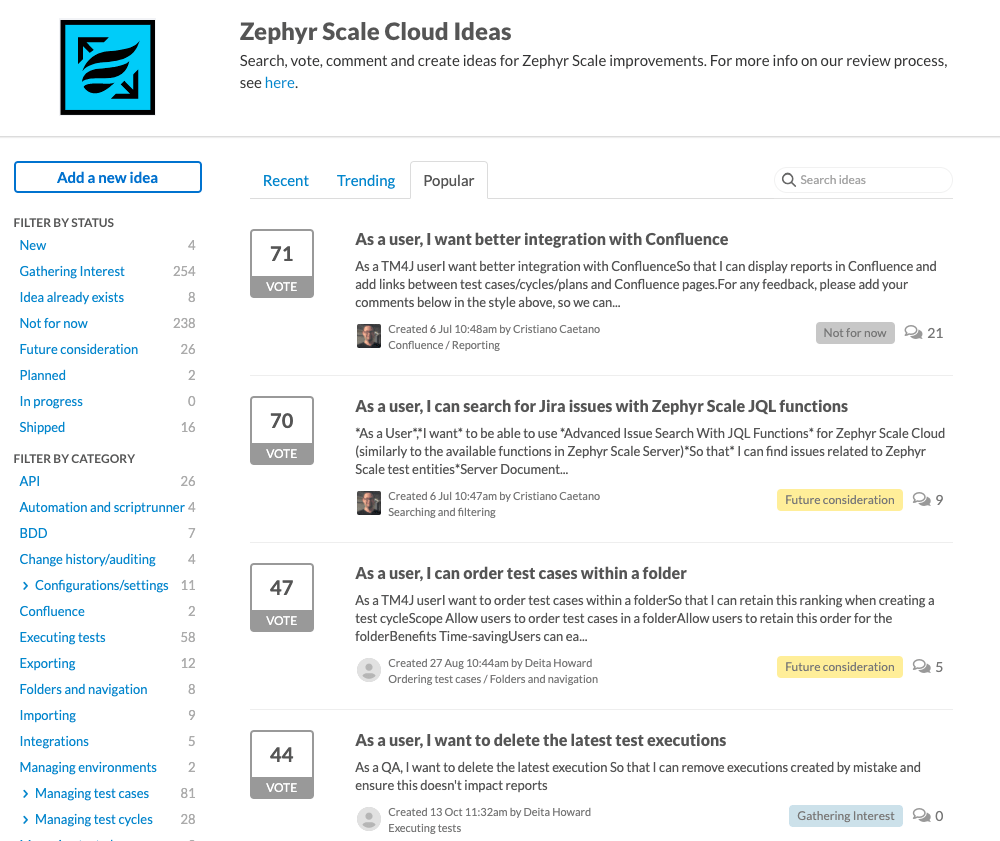 Ideas Portal for Zephyr Scale
Meeting teams where they're at
Our mission for 2022, and beyond, is to be every product team's choice for defining, testing, and measuring the impact of software. We meet teams where they're at and help them to get to where they're going by offering the right product for the right job. And with a smooth progression path between products in the Zephyr family, customers will be able to smoothly transition to the next stage as their testing efforts grow over time. Because your progress is our success.
And because quality isn't just a goal, it's the whole point.
This post was originally published at https://smartbear.com/blog/the-next-level-of-quality-with-zephy-family/
Do you want to learn more about Zephyr? Contact Lexington Soft or sign up for a free trial.