Which Zephyr Test Management Tool Is Right for Me?
Thursday, March 18, 2021
ll teams work differently. Some teams want the basics to create and execute tests, while others are looking for more in-depth reporting or scaling tests with automation/BDD. This is why we have three solutions in our Zephyr portfolio to hit your test management needs head on, no matter where you are in your SDLC journey.
For Small, Agile Teams
You: A small, agile-focused team or company looking to get started with test management. You mainly manage your tests in a spreadsheet, or perhaps just started using a Jira-based test management solution.
You need: Test management that's very simple, helps you hit the ground running, and works inside Jira. You want to manage your requirements in Jira, execute tests, and occasionally spin up basic reports for team-member visibility. Since you only have a few testers on the team, automation and Cucumber/BDD integration will be key to finishing sprints on time.
Meet Zephyr for Jira: An easy-to-use, flexible test management solution inside Jira. This single-project test management tool integrates seamlessly into your Jira environment, making it easy for Agile teams already familiar with Jira to start testing immediately. All the test management basics are present and accounted for, including test design, execution, and reporting.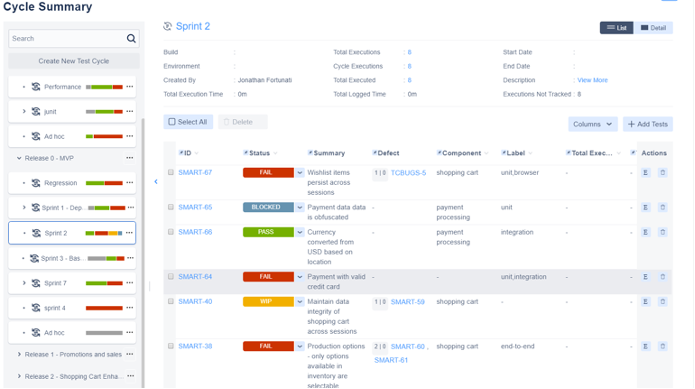 Test Cycle Summary in Zephyr for Jira
There's also a particularly strong focus on out-of-the-box integrations with Cucumber/BDD and test automation tools, including ReadyAPI, TestComplete, and CrossBrowserTesting.
Learn more about Zephyr for Jira
For Mid-size, Growing Teams
You: A medium-to-large team or company that uses a mix of agile and waterfall. You're no stranger to test management tools, having used a legacy enterprise or Jira-based test management solution. While you mainly operate within a single Jira instance, your test library spans across multiple Jira projects.
You need: A more structured test management solution, something that can perform well with a larger library of tests on Jira. You're looking for reusability features to help teams handle the growing complexity and scale of tests, and need a rich selection of reports to match that.
Meet Zephyr Scale: A scalable, advanced test management solution inside Jira.  What makes Zephyr Scale stand out from similar tools is that its test entities are linked, but not directly based on the Jira issue types. This lets you easily configure your own custom fields and statuses to a greater degree at a project level, without the need to involve a Jira admin.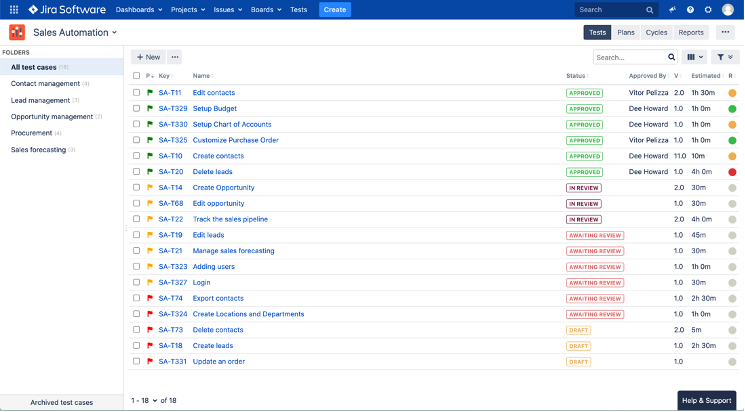 Main library in Zephyr Scale
Zephyr Scale also comes with advanced reusability features, such as cross-project hierarchical test libraries, versioning, and parameters. Similar to Zephyr for Jira, you have the option to scale your testing with BDD, CI/CD, and automation integration. To ensure the best visibility across teams, Zephyr Scale users can also take advantage of over 70 out-of-the-box reports and Jira dashboard gadgets
For Large, Complex teams
You: A large enterprise organization, most likely already using an enterprise-grade test management solution. You might be working in a regulated industry with strict compliance, privacy, and security requirements. Some parts of your organization may be planning to use Jira for requirements management, which has introduced certain challenges in itself.
You need: A test management solution that supports high availability and scalability. You want maximum diversity in the way your teams operate – agile to waterfall – and the widest support for automation frameworks to aggregate reporting on test activities throughout the entire organization. Regulations require you to keep your requirements and test data separate from Atlassian/Jira. Ideally, you're looking for a standalone test management solution that, where necessary, can tightly integrate with Jira.
Meet Zephyr Enterprise: A robust, standalone test management solution that offers the most comprehensive set of features in the Zephyr family. Not only can Zephyr Enterprise import data from Jira (such as defects, requirements, or test cases), but it can also connect and consolidate data from multiple Jira instances within your organization.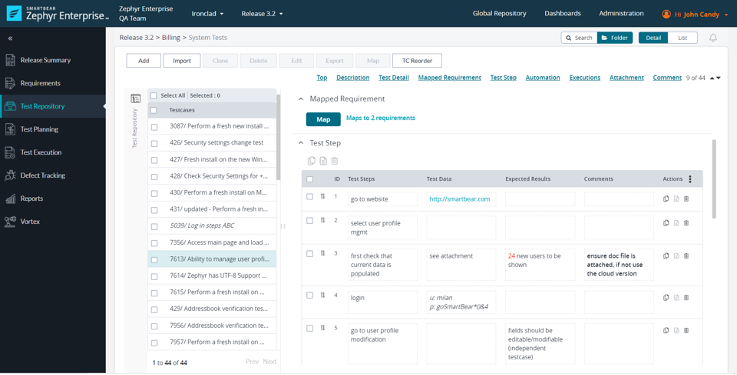 Test Repository in Zephyr Enterprise
Zephyr Enterprise meets the most demanding requirements around privacy and security (with enterprise-grade LDAP, SSO, Encryption in Transit and at Rest), provides enterprise-grade test planning, and offers support for multiple test automation workflows and frameworks, making it the perfect tool for consolidating teams that use disparate, homegrown automation solutions.
Learn more about Zephyr Enterprise
Test Management, for any Team
Whether you're about to move away from spreadsheets and into your first test management tool in Jira, looking to scale up your testing in Jira, or want a more robust standalone solution, there's a Zephyr solution ready for you.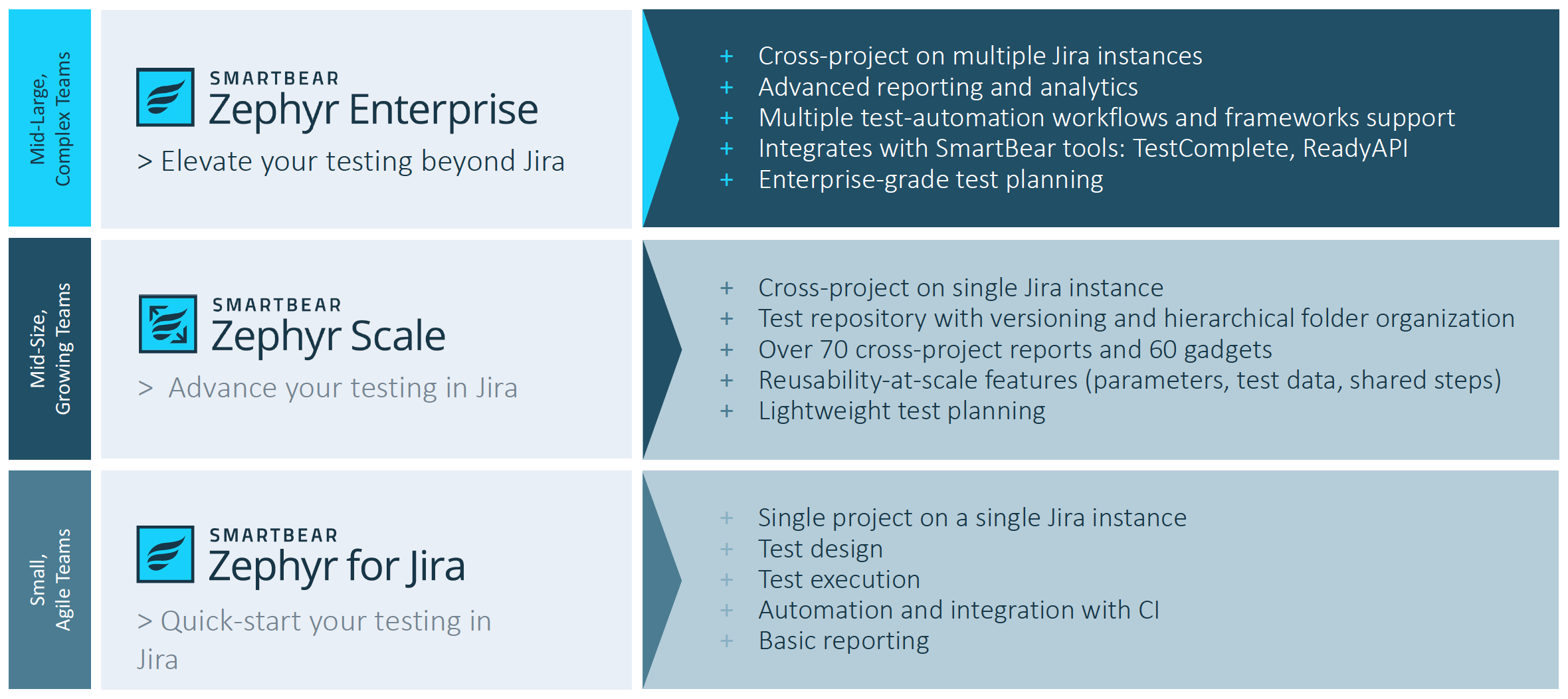 Zephyr TM Family
For a more detailed, side-by-side comparison of the Zephyr product family, please take a look at our comparison sheet here.
Author: Sergejs Cuhrajs
This post was originally published in https://smartbear.com/blog/which-zephyr-test-management-tool-is-right-for-me/
For more information about Zephyr tools, contact us today or request a free trial!